The mission of the Jamestown Police Department is to assist the community in creating a safe and peaceful environment, protect life and property and help to ensure an exceptional quality of life.
The Jamestown Police Department operates 365 days a year, 24 hours a day. In the Uniform Division, our department operates three 8 hour shifts, each 24 hour period. The Investigative Service Division works Monday – Friday and are on call on the weekends. Other services we provide are:
Special Operations Team
Canine Services
School Resource Officer
Drug Task Force
Juvenile Officer
The Police Department is located on the main floor of the Stutsman County Law Enforcement Center.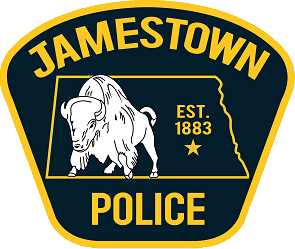 205 6th St SE Suite #101
Jamestown, ND 58401
(701) 252-2414
Upcoming Events
Weather
{{current_weather.dt | momentjs( atts.date )}}
{{current_weather.temp | temp}} °{{units}}
{{day.dt | momentjs(atts.date)}}
{{day.temp | temp}} °{{day.temp_min | temp}} °{{units}}
{{current_weather.temp | temp}} °
Humidity: {{current_weather.humidity}}%
Clouds: {{current_weather.clouds}}%
Wind ({{current_weather.wind.deg}}): {{current_weather.wind.speed}}{{units_wind}}
{{current_weather.desc}}
{{day.dt | momentjs(atts.date)}}
{{day.temp | temp}}°
{{day.temp_min | temp}} °