Mission Statement
The mission of the Stutsman County Correctional Center is to protect the public, staff, and inmates by operating a safe, secure and humane correctional facility through effective facility and community supervision, classification and programs.
Organizational History
The Stutsman County Correctional Center, herein referred to as "SCCC", is regulated by the North Dakota Century Code Chapter 12-44.1 and North Dakota Correctional Facility Standards.  The SCCC is classified as a "Grade one" facility and is inspected each year by the North Dakota Department of Corrections and Rehabilitation to ensure compliance with rules and regulations.
The SCCC opened in 1986 with an initial capacity of 44 inmates and is located on the second floor of the Law Enforcement Center in Jamestown, North Dakota.  After several adjustments and additions of double bunking, today the facility has a capacity of 92 inmates.
The facility houses sentenced and non-sentenced adult men and women from local and surrounding communities.  The SCCC also maintains a boarding contract with the U.S. Marshal Service for the housing of federal inmates.
The operations of the correctional center are mandated by the Governing Authority Board, which is comprised of two County Commissioners, two City Council Members and one citizen at large.  The board meets monthly in the Stutsman County Commission Room located in the Courthouse.
Administration staff includes:
Chad Jackson – Administrator
Scott Franke – Deputy Administrator
Rich Barnes – Lieutenant
Jessica Hartman – Sergeant and 24/7 Coordinator
David Schloegel – Administrative Officer and Mail/Property Officer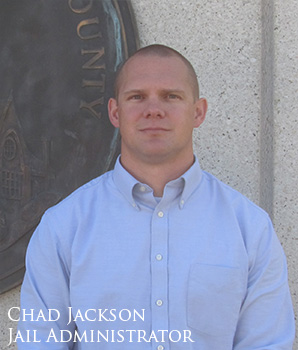 205 6th St SE Suite #201
Jamestown, ND 58401
Upcoming Events
1 event,
Offices Closed (Christmas Day)
Weather
{{current_weather.dt | momentjs( atts.date )}}
{{current_weather.temp | temp}} °{{units}}
{{day.dt | momentjs(atts.date)}}
{{day.temp | temp}} °{{day.temp_min | temp}} °{{units}}
{{current_weather.temp | temp}} °
Humidity: {{current_weather.humidity}}%
Clouds: {{current_weather.clouds}}%
Wind ({{current_weather.wind.deg}}): {{current_weather.wind.speed}}{{units_wind}}
{{current_weather.desc}}
{{day.dt | momentjs(atts.date)}}
{{day.temp | temp}}°
{{day.temp_min | temp}} °