The Stutsman County Auditor is the Chief Financial Officer for the county. The auditor oversees all fiscal action ensuring that funds are used properly. Some of the financial duties include assisting the Commission with the annual budget, preparing various financial reports, calculating tax levies, payment of bills and payroll and distribution of collected tax dollars. The auditor also serves as the executive secretary of the County Commission by scheduling meetings, preparing agendas and taking minutes at commission meetings.
The Auditor's Office also provides many services to the public. As the County Superintendent of Schools designee, the office can assist with school record research for social security or genealogy purposes. Questions regarding the taxation process including mill levies and the tax foreclosure process can be forwarded to this office as well.
The county auditor is also the county's election administrator for primary, general and special elections for county, state and federal elections. General election questions as well as questions concerning absentee ballots, overseas voting and voting locations can be answered through this office. For more information you can view the Voting Information page.
The Auditor's staff includes;
Jessica Alonge – Auditor / COO
Shannon Davis – Human Resource Director
Emily McLean – Human Resource Specialist / Deputy Auditor
Lakien Vetter – Deputy Auditor
Stephanie Anderson – Deputy Auditor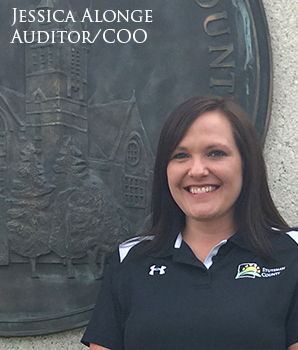 511 2nd Ave SE Suite #102
Jamestown, ND 58401
Upcoming Events
1 event,
Offices Closed (Christmas Day)
Weather
{{current_weather.dt | momentjs( atts.date )}}
{{current_weather.temp | temp}} °{{units}}
{{day.dt | momentjs(atts.date)}}
{{day.temp | temp}} °{{day.temp_min | temp}} °{{units}}
{{current_weather.temp | temp}} °
Humidity: {{current_weather.humidity}}%
Clouds: {{current_weather.clouds}}%
Wind ({{current_weather.wind.deg}}): {{current_weather.wind.speed}}{{units_wind}}
{{current_weather.desc}}
{{day.dt | momentjs(atts.date)}}
{{day.temp | temp}}°
{{day.temp_min | temp}} °