Chad Kaiser was first elected to the position of Sheriff in November, 2010.
The Sheriff's Department is responsible for preserving peace and order. Duties include making arrests, enforcing all state and local laws, transporting prisoners and mentally ill patients, serving legal papers, holding public sales of property under court orders and attending District Court.
The office also has the authority to enforce laws in cities and smaller communities, as well as the rural area.
The Stutsman County Sheriff's Department has ten full-time deputies and two full-time office deputies.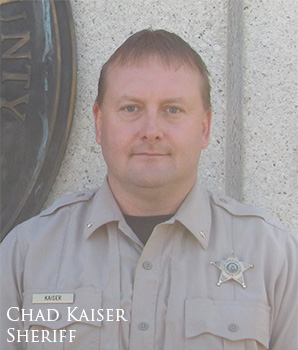 205 6th St SE Suite #102
Jamestown, ND 58401
(701) 252-9000 (Report An Incident)
(701) 251-6200 (General Inquiries)
Upcoming Events
Weather
{{current_weather.dt | momentjs( atts.date )}}
{{current_weather.temp | temp}} °{{units}}
{{day.dt | momentjs(atts.date)}}
{{day.temp | temp}} °{{day.temp_min | temp}} °{{units}}
{{current_weather.temp | temp}} °
Humidity: {{current_weather.humidity}}%
Clouds: {{current_weather.clouds}}%
Wind ({{current_weather.wind.deg}}): {{current_weather.wind.speed}}{{units_wind}}
{{current_weather.desc}}
{{day.dt | momentjs(atts.date)}}
{{day.temp | temp}}°
{{day.temp_min | temp}} °