Jim Fettig was hired as the Maintenance Supervisor at the Stutsman County Courthouse in August 1999. Jim and his staff are in charge of maintaining the Courthouse and Human Service buildings.
The maintenance department is responsible for all janitorial work, maintenance of all mechanical equipment, lawn care in the summer and snow removal in the winter. The staff also does small remodeling projects and painting. The maintenance staff oversaw the extensive remodeling project to update the heating and cooling system for the entire Memorial Building and the remodeling of the Court's facilities at the Courthouse.
The Stutsman County Courthouse was built in 1982.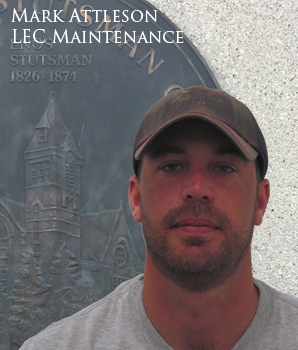 Mark Attleson has been the Maintenance Supervisor of the Stutsman County Law Enforcement Center since May, 2021. Mark and his staff are responsible for the care and repair of the Law Enforcement Center building. This includes snow removal in the winter and lawn care in the summer. They also oversee all remodeling projects and upgrades to the facility. The staff is on call 24/7.
Upcoming Events
Weather
{{current_weather.dt | momentjs( atts.date )}}
{{current_weather.temp | temp}} °{{units}}
{{day.dt | momentjs(atts.date)}}
{{day.temp | temp}} °{{day.temp_min | temp}} °{{units}}
{{current_weather.temp | temp}} °
Humidity: {{current_weather.humidity}}%
Clouds: {{current_weather.clouds}}%
Wind ({{current_weather.wind.deg}}): {{current_weather.wind.speed}}{{units_wind}}
{{current_weather.desc}}
{{day.dt | momentjs(atts.date)}}
{{day.temp | temp}}°
{{day.temp_min | temp}} °