The Tax Equalization Office is responsible for the annual ad val orem property tax assessments within Stutsman County. The office oversees the local assessment process. Training is provided for township and city assessors. The office also contracts with local cities and townships for assessment services.
The assessment process places a value on all real property. Assessment records are developed that include ownership history, property attribute information and historical market value and productive value information.
The office monitors sales of property to conduct statistical studies for assessment accuracy and assessment equality. Majority of the sales information is available to the public. The office also oversees the taxation of all mobile homes and the collections of taxes levied on them. Mobile home moving permits are available in the Tax Equalization office.
Administering property tax exemptions, tax reductions for the elderly and disabled, and property tax appeals are part of the office's duties. The office also serves as the county zoning administrative office. Building permits, conditional use permits, zoning variances and zoning amendments are initiated in this office. The office also establishes just compensation for property acquisitions for Federal Aid highway projects.
Tyler Perleberg was appointed Tax Director in December, 2014.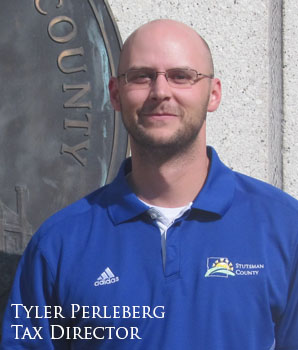 511 2nd Ave SE Suite #102
Jamestown, ND 58401
Upcoming Events
Weather
{{current_weather.dt | momentjs( atts.date )}}
{{current_weather.temp | temp}} °{{units}}
{{day.dt | momentjs(atts.date)}}
{{day.temp | temp}} °{{day.temp_min | temp}} °{{units}}
{{current_weather.temp | temp}} °
Humidity: {{current_weather.humidity}}%
Clouds: {{current_weather.clouds}}%
Wind ({{current_weather.wind.deg}}): {{current_weather.wind.speed}}{{units_wind}}
{{current_weather.desc}}
{{day.dt | momentjs(atts.date)}}
{{day.temp | temp}}°
{{day.temp_min | temp}} °